Just had a massive argument with a seagull who reckoned it was fair game that pigeons didn't make the shortlist for Britain's National Bird whereas seagulls should definitely have been on there. I held my own but walked away thinking, actually, it is an outrage. We should both be on there.
Voting is taking place as we speak on the following top ten birds:
1. Mute Swan – can't even speak.
2. Red Kite – scared of buildings.
3. Hen Harrier – never heard of them.
4. Puffin – WTF? How many puffins do you see hanging about in your local park?
5. Barn Owl – only comes out at night.
6, 7, 8. Kingfisher / Wren / Robin – all way too small. Pointless.
9. Blackbird – Fair play. The only one I think deserves to be on the list.
10. Blue Tit – Really?
And not a pigeon in sight. Considering the number of us around, I'd say not even getting a mention is a massive mistake and, frankly, disappointing, particularly considering the huge effort we've made over recent years towards engaging in a meaningful way with local communities. According to the BBC, the robin is an early favourite. Robins are already quite hard to stomach. Becoming Britain's National Bird would make them fucking unbearable. You can read more about it here.
I hit the streets earlier to canvass a few opinions. Of course, it was no surprise that every pigeon I spoke to was as upset about it as I am.
This is Sid. Sid has joined me on a number of campaigns in the past including the G20 Fly-by back in the day: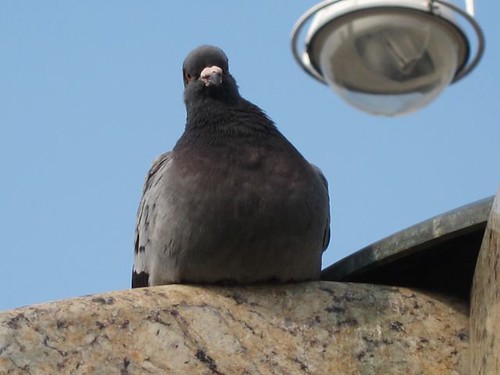 To say he was angry would be an understatement.
"I can't bloody believe puffins are on the list, and we're not. It's crazy, man! I mean, look at us. We're everywhere. Ever met a puffin? Nah. Thought not, and as for a bird that only comes out at night. What's the point in that?"
He did go on to say that he was equally as surprised that neither the magpie nor the sparrow made the list either. I agreed with him.
So, there it is. A bit late now but, assuming this is an annual thing, I'm hoping the Urban Birder who organised the whole gig will do the right thing by ensuring we're on that list next time. Put it this way, if he doesn't, watch this space.
Spring is most definitely in the air. The sun is out and pigeons everywhere are going for it, big time. It's the same every year. Suddenly, overnight, every pigeon is only after one thing, and it has nothing to do with food.
This was the scene earlier today down near the seagull spa by the Pavillion:
Jesus. No shame whatsoever.
Having never been a fan of the blatant public display, I decided to ask some questions. Mainly I was interested in why it was he didn't take her back to his ledge.
This is Gary. Unlike most pigeons, Gary still likes to play the field:
"I find being with the same pigeon day after day really dull. They move onto the ledge and the next thing you know they're plucking shit from your tail feathers. I'd rather throw it about a bit. It's more interesting that way. Bit of variety."
I asked him whether it was the idea of commitment that put him off.
"No. If I met a pigeon I could settle down with, great, it's just I enjoy the variety, and I think the variety enjoys me. Not being big-headed but there's no shortage out there these days of single pigeons looking for a good time."
I was shocked by his last statement. Okay, so I've spent more time in the last ten years hanging out with a pigeon called Mart whilst mastering the Internet than I have looking for a shag, but I do know it's not that easy to find one. There was a pigeon called Mary once, and a duck called Pam, but that's another story. Since then, not much at all apart from the odd sniff, but I don't regret it. However I do find the increase in public displays of single shagging a bit worrying. It can only lead to more bad publicity.
Soho Square it is where it's at for the single shaggers. Always has been. These two turn up year after year so they can get it on in public with whoever will have them, and they usually end up with eachother:
George P Phillips below is staunchly against this kind of public display of random affection:
"I find it utterly revolting and totally unnecessary." He said. "As soon as Spring comes along, pigeons these days think it's fine to jump on top of anything they see regardless of any potential long term relationship. It's simply not on, and I believe it's sending out a very bad message to the younger pigeons out there. Pigeons should find a partner and mate for life and anything in between is, frankly, abhorant."
But what about the pigeons that don't mate for life? Or those that don't appear to mate at all, like me? Well if there's one thing I've learned along the rocky road of being a blogging pigeon for ten years, it's live and let live. If you find a life partner, great, if not, go where the urge takes you, but maybe consider going somewhere a little more private.