I Am Not Alone!
Right – that's it – 3 nights at Ali's. Top man though he is (although he can be a bit dull at times – Ali, you know it, man! – it's ok, we laughed about it last night). I'm starting to forget what my nest feels like! Popped out for a throwaway which was cool coz him being a bloke meant I could choose. Seeing as all I normally get from a Chinese are cold noodles, I went for that. Jesus. We stuffed ourselves. No more seed shite for me tell 'ya! Give me Chicken Chow Mein anytime!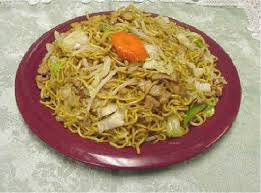 (This was the pic in the menu that sold it to me).
To be honest, was gonna go for the Duck but I feel closer to Ducks than I do Chickens. Don't ask me why.
Anyways, got back and was on the lookout for responses to my Sniff Test Appeal (see post below) and any fellow blogging pigeons out there (real ones) and I found this, Diary of the Mad Pigeon. Yee ha! At last. Respect fella. I mailed him and we're in touch now, so cool. Still no news on any interest in The Sniff Test though – will let you know. Maybe my new mate Mr Mad can help?
Also worked on the letter to Ken. Watch this space!
Leave a Comment
Be the first to comment!